Thorsten Stärk:
X-CD-Roast 0.98alpha14
Manual
How to duplicate a CD

How to duplicate a CD


How to copy a CD using an image


How to copy on-the-fly


Solving problems

How to duplicate a CD
OK, so you have an audio or data CD and want to get two or more of them. There a two ways of duplicating a CD:

you can create an image of your CD, store it on your hard disc and then burn it onto your CD or
you can copy the CD on-the-fly

Copying on-the-fly is faster than creating an image, but a buffer underrun is more likely. So, use it if you have a burn-proof-reader.

How to copy a CD using an image
Start xcdroast and chose "Duplicate CD" in the main menu.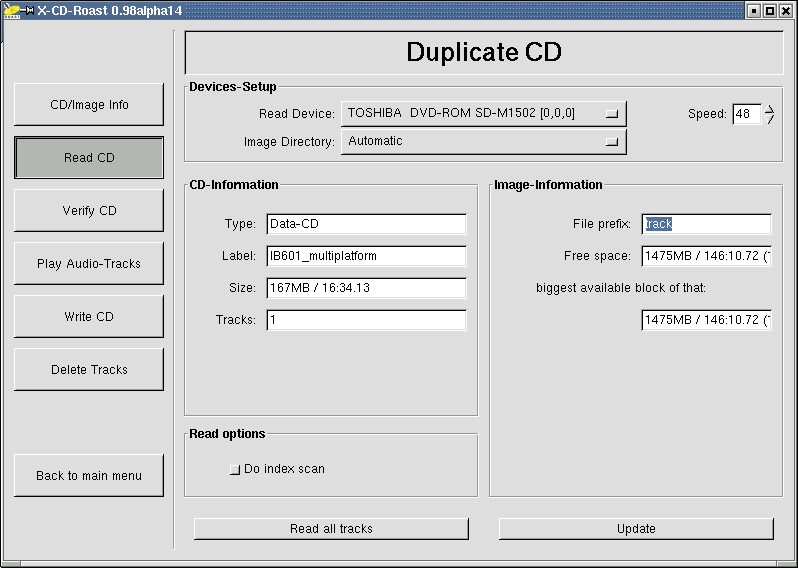 On the screen, the CD/Image Info appears, it reports about your CD in the drive and about the images on your harddisc. Click on Read CD, chose your read device, reading speed and give a file prefix that will be used to store your image on the harddisc. Looks like that: Click on "Read all tracks" and the CD will be read and stored as an image on your harddrive. The message "Tracks successfully read appears". Click on OK and chose "Write CD" from the screen. Looks like this: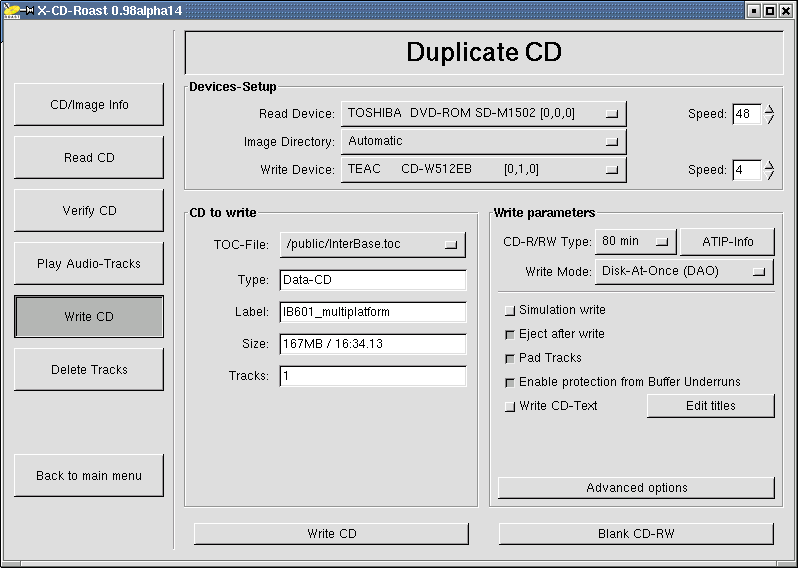 The device setup is contains what you specified during the setup process. For the rest of the screen, let me point you to the great tooltip help of X-CD-Roast - just rest your mouse cursor over an item and a bubble pops up, giving explanation for everything you need. Note that the toc-file has been automatically filled out with the prefix you specified during the read process. So you can start burning by clicking on "Write CD".
How to copy on-the-fly
Start xcdroast, chose "Duplicate CD" and "Write CD". As toc-file, chose "Copy on the fly":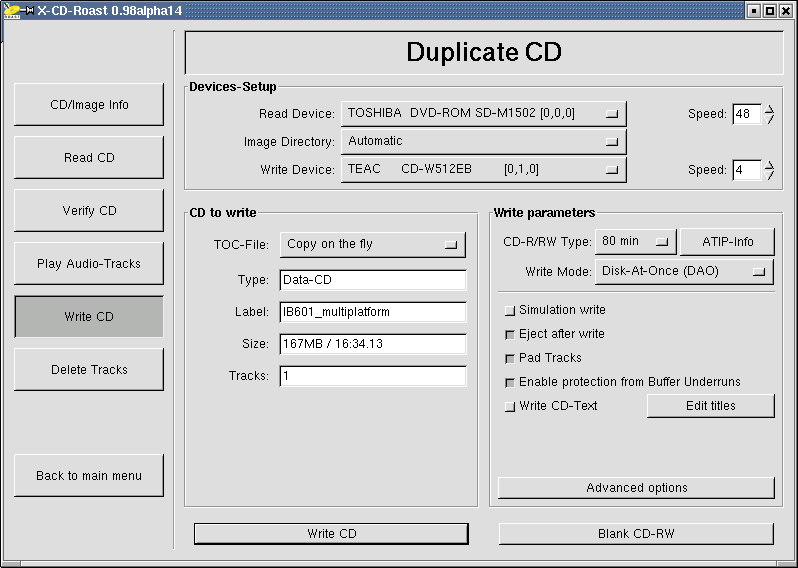 Click on the button "Write CD" (the lower one) and the copy process starts. Life can be so simple if you have a burn-proof-writer!
Solving problems
When reading CDs into an image, there might not be enough free space on your disc. Then, you see this message: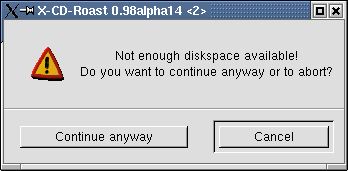 First, switch to the main menu of X-CD-Roast and chose "Setup", then "HD settings". Here you find the directory where your CDs' images are stored. Let's imagine it is /tmp and by typing df you find out, it belongs to the partition hda2. Now you have two practical possibilities:
Free space on the partition hda2
In setup, chose a directory in another partition that has enough space for a complete CD